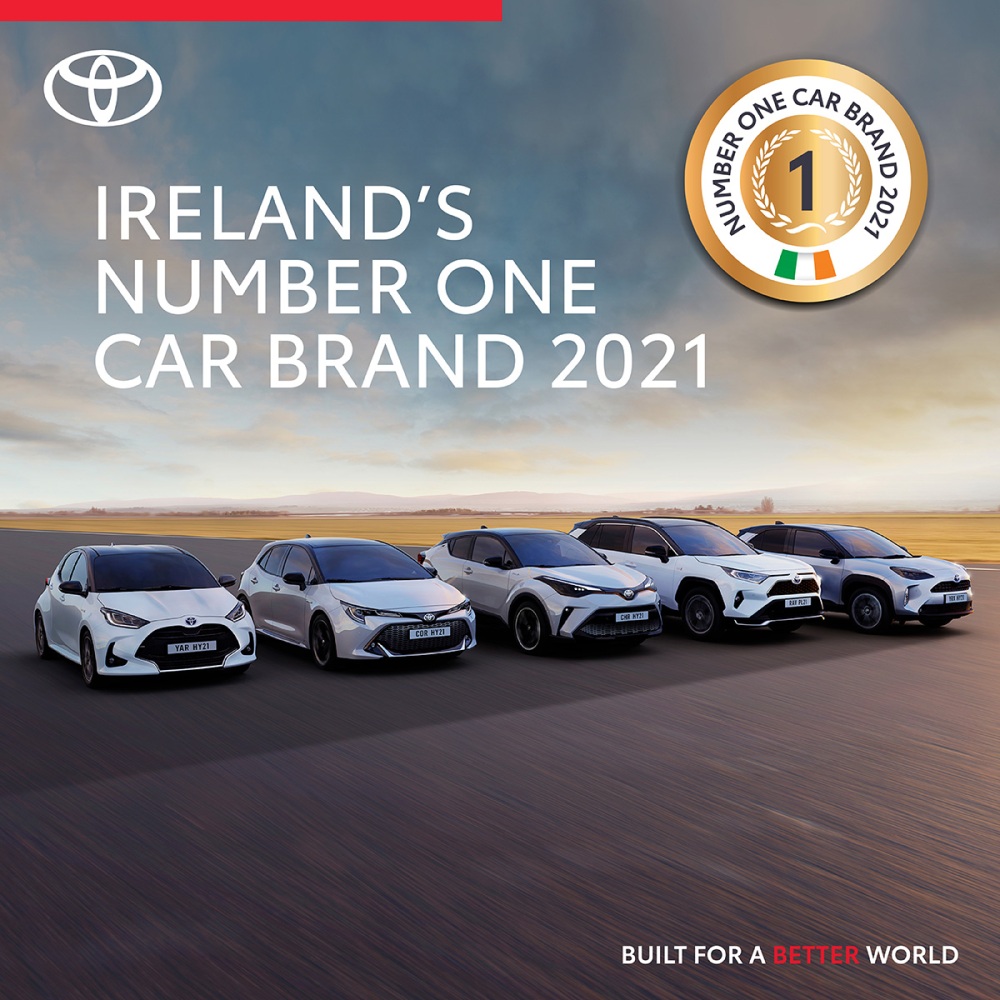 12.44% Market Share Underpins Continued Popularity of Self-Charging Hybrid
Toyota Ireland has closed out the year as Ireland's most popular car brand. With 12.44% share of the passenger car market and four of its models in the top ten best-sellers list, Toyota sold an impressive 13,053 passenger cars, which represents more than a 30% year-on-year increase. Toyota maintains that when a wide range of electrified options are made available to customers, they tend to choose these more environmentally friendly models as evidenced by the fact that 92% of Toyota's sales were for its low emission self-charging hybrid electric vehicles.
In 2021, electrified vehicle options saw significant annualised growth, with battery electrics (BEVs) enjoying a 115% increase and plug-in hybrids (PHEVs) increasing by 210% respectively. Both BEVs and PHEVs have typically lower volumes in comparison with that of self charging hybrids (HEVs). In 2021, HEVs increased by 63% from an already strong position built up over the last five years. In actual sales terms, HEVs were by far the most popular electrified vehicles with 16% overall market share, followed by BEVs at 8% and PHEVs at 7%. With significantly more low emission vehicles on Irish roads than any other car brand, Toyota sees hybrid technology as a key cornerstone in the move towards more sustainable motoring.
Toyota, which predicted the demise of diesel some years ago, firmly believes that its hybrids play a vital role in swiftly and easily moving people away from these higher polluting vehicles, particularly as they are very affordable and don't require plugging in to charge. In 2021 diesel models continued to lose market share and were down 8%, and account for just a third of the overall market, a significant decrease from the 71% share they had in 2015. Alongside this decrease, there is an evident tipping point when it comes to electrified models in Ireland. BEVs, HEVs, PHEVs and other electrified diesel options make up a total of 34% share in comparison with 33% of solely diesel. Toyota believes the diesel market will accelerate its downward spiral over the next three years and estimates that it will represent only 10% of the entire new sales market by the end of 2024.
Steve Tormey, CEO of Toyota Ireland said, "It's really heartening to see the continued growth in low emission, electrified car ownership in Ireland, as we move ever closer to a world where CO2 emissions will be a thing of the past. At Toyota, we are proud to play our own part in this transition through advancing battery electric and hydrogen fuel cell innovations while furthering the long term viability of hybrids which are set to become even more efficient in the soon to be launched 5th generation models. Given our 4th generation models can operate in full EV mode for up to 80% of the time in urban driving conditions, the future looks very promising for the next generation of Toyota hybrids.
"We look forward to another successful year in 2022 and are especially excited for the arrival of our first zero-emission full battery electric car in June, the bZ4X. With our focus on deriving as much power efficiency from batteries as possible, something we have been refining for thirty years, the arrival of the bZ4X will mark another exciting chapter in the Toyota story. There's a lot more to come from Toyota as highlighted by our recently announced plans to bring 30 BEVs to the market by 2030, have 3.5 million BEVs on the road globally by 2030, and to achieve 100% carbon reduction in Western Europe by 2035."
Toyota's 'Built for a Better World' brand promise and its commitment to carbon neutrality doesn't just end with the supply of zero emissions vehicles. The company is also aiming for its manufacturing plants to achieve carbon neutrality by 2035 by continuously making steady improvements toward reducing energy use and by expanding the use of innovative production engineering technology. In total, Toyota is investing €62bn in realising its vision to deliver a fully sustainable era of motoring and a better future for the world and its citizens.